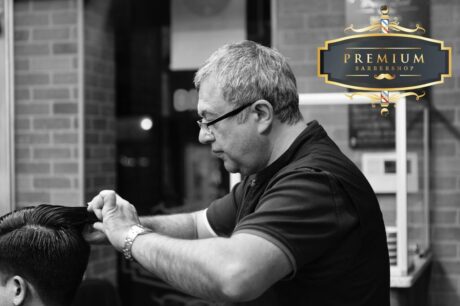 In today's modern world, a gentleman's appearance speaks volumes about his personality, and a well-groomed hairdo is a crucial component of his overall style. Whether you prefer the timeless elegance of a crew cut, the edgy allure of an undercut, or the suave sophistication of a slick back, the perfect part is the cornerstone of any sharp-looking hairstyle. We've compiled a comprehensive guide to assist you in achieving the immaculate parting that will elevate your hair game to new heights.
How to Get a Flawless Part
If you're aiming to achieve a sleek and sophisticated hairstyle, a flawless part is a must. But where do you begin? Follow these steps to achieve the perfect parting.
Start With a Good Haircut
The first step towards nailing the perfect parting is laying the groundwork with a top-notch haircut. You will work together with your barber to create a personalized cut that complements your face shape and highlights your unique features. Don't be afraid to communicate your preferences and goals — after all, barbers are there to help you achieve your desired look. A proper haircut from a professional sets the foundation for a stunning hairstyle that turns heads and boosts your confidence. You can entrust your hair to our skilled barber in NYC who has a great sense of style and a keen eye for detail. They'll give you a fantastic grooming experience in the city.
Choose the Right Part
Selecting the appropriate part for your face shape necessitates a thoughtful examination of your facial angles and proportions. A middle part works well for those with round or oval faces, as it helps to elongate the face and create a more symmetrical appearance. On the other hand, a side part is ideal for those with square or rectangular faces, as it can help to soften the angles of the face and create balance. If you have a triangular or heart-shaped face, a deep side part can help to draw attention away from the wider parts of the face and create a more dramatic look. You can experiment with different parting styles to find the one that works best for you.
Section off Your Hair
To achieve a clean and defined part, you need to section off your hair properly. Start by using a comb to separate the hair at the front of your head into the section you want to part. Use the end of the comb to make a straight line where you want the part to be. Then, use the comb to section off the hair on either side of the part. This will create a clean and defined line.
Use a Styling Product
Once you've sectioned off your hair, it's time to use a styling product to hold your part in place. Choose a product that works well for your hair type and the style you're trying to achieve. For example, if you have fine hair, you may want to use a light-hold styling cream. If you have thick hair, a strong-hold gel may be more appropriate.
Blow Dry Your Hair
Blow drying your hair can help to set your part in place and create a clean and defined look. To get started, begin by selecting the right hair dryer. Ideally, you should use a dryer with a concentrator nozzle that will allow you to direct the airflow where you need it. By doing so, you can better control the direction of the heat, avoiding frizz and flyaways.
Next, you'll want to prep your hair for blow drying. Make sure to towel dry your hair to remove any excess water. Additionally, you may want to apply a heat protectant spray or serum to protect your locks from damage caused by the heat. When blow-drying your hair, it's best to start at the roots and gradually work your way toward the ends. Using a brush to smooth your hair as you go can help create a more polished look. If you're going for a sleek, straight style, consider using a round brush to help straighten your hair as you dry it.
Finish With a Comb
To ensure that your part is clean and defined, finish with a comb. For a fine, precise part, opt for a comb with tightly spaced teeth. For a more natural, tousled look, choose a comb with wider teeth. Additionally, using a comb made of high-quality materials, such as wood or metal, can help prevent static and provide better control over your hair.
Maintain Your Part
Throughout the day, touch up your part with a styling product, such as pomade or hairspray, to keep it looking fresh. When using a product, start with a small amount and build up as needed, to avoid weighing down your hair or creating a greasy appearance.
If you're going for a deep side part, visiting your barber regularly can help keep the line sharp and prevent split ends. A professional can also recommend styling products and techniques to enhance your part and provide a more polished look. When scheduling a barber haircut, consider the frequency of your hair growth and the length of your hair, as this can affect how often you need to visit the barbershop for maintenance.
NYC Barbershop Near Me
Are you searching for a high-quality barbershop that can help you achieve the perfect part? Our professionals can help! We offer a truly unique grooming experience that will leave you feeling confident and looking your absolute best. Our skilled barbers are well-versed in the latest haircutting techniques and trends and will collaborate with you to create a look that is perfectly tailored to your style.
Along with haircuts, our full range of grooming services includes hot towel shaves, beard trims, and scalp massages. Whether you require a quick touch-up or a complete grooming overhaul, we have you covered. So why wait? Book your appointment today at our conveniently located NYC barbershop and let us help you achieve the perfect part!