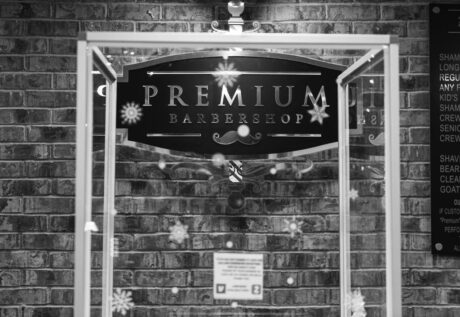 Men's hairstyles are always evolving, with people constantly seeking out fresh and trendy looks that combine elements from the past and the present. And one particular barber haircut style that has caught the attention of fashion-forward men is the retro-inspired high fade curls.
This style has its roots in the twenties, a time when short haircuts and clean shaves were the norm. However, some men rebelled against this trend and began to experiment with longer hairstyles, often accompanied by curls or waves. This led to the creation of iconic looks such as the slicked-back undercut and the side-parted waves.
One of the defining elements of retro-inspired high fade curls is the high fade itself. This refers to the short, tapered sides and back of the head, which gradually transition to longer top hair. The contrast between the shorter and longer sections creates a dramatic effect that draws attention to the curls and waves on top.
How to Achieve the Retro-inspired Look
The high fade curls hairstyle is a masterful combination of two distinct elements: retro curls and a high fade. Let's break down each component and understand how they contribute to the overall aesthetic:
Retro Curls
Retro curls are a throwback to the classic hairstyles of the mid-20th century, popularized by style icons like Elvis Presley and James Dean. These curls add a sense of elegance and refinement to any look due to their voluminous and bouncy nature.
Achieving those stunning retro curls requires the deft touch of a professional. They'll start with a suitable barber haircut base, carefully trimming your hair to a medium length that provides the perfect canvas for defined curls. Barbers employ a range of techniques like finger waves, pin curls, or hot rollers to create the desired curl pattern. The end result? A head full of voluminous and impeccably coiled curls.
High Fade
When it comes to the retro-inspired high fade curls, the high fade itself stands out as a defining element. This particular style showcases a gradual transition from longer hair on top to shorter hair on the sides and back, resulting in a fade effect that can be customized based on personal preferences. The high fade creates a sharp contrast between the length of the curls and the close-cut sides, accentuating the overall aesthetic and adding a touch of modernity to the classic look.
When opting for a high fade, make sure to communicate your desired fade length and blending technique to your barber. They will create a seamless transition that enhances the retro-inspired high fade curls.
The Versatility of Retro-Inspired High Fade Curls
One of the remarkable aspects of the retro-inspired high fade curls is its versatility. This hairstyle can be adapted to suit various preferences, hair types, and occasions.
Length and Texture Variation
Depending on your hair type and style, you can opt for longer or shorter hair on top. Keep in mind that longer hair will provide more volume and movement to your curls, while shorter hair will result in tighter and more defined curls. If you have naturally curly hair, your barber can enhance the curls with proper cutting techniques and styling products. If your hair is straight or wavy, your barber can use hot tools or curling products to create the desired retro curls.
Styling Options
Another advantage of the retro-inspired high fade curls is the range of styling options available. You can experiment with different looks to suit different occasions and moods. Here are a few styling ideas to get you started:
Use a high-quality styling gel or pomade to comb your hair backward, ensuring the curls stay intact. This style exudes timeless elegance and works well for both formal and casual events.
Apply a lightweight texturizing spray or mousse to enhance the curls' definition and create a tousled effect. This style is perfect for a laid-back, effortless vibe.
Think about integrating a side part and an undercut to give your retro-inspired high fade curls a modern twist. This combination creates a stylish contrast between the structured side part and the voluminous curls.
Remember, the key to maintaining your retro-inspired high fade curls is proper care and grooming. Use high-quality hair products designed for curly hair, moisturize your curls regularly, and schedule regular visits to your barber for touch-ups.
Maintaining Your New Hairstyle
Scheduling regular trims with your barber will keep the length and shape of your curls intact. This will prevent split ends and maintain the overall structure of the hairstyle. Ask your barber for product recommendations to keep your curls moisturized and frizz-free. Make sure to use high-quality shampoos and conditioners to ensure your retro curls stay healthy and vibrant.
Styling Techniques and Products
Styling your retro-inspired high fade curls is an art in itself. Here are some tips:
Start with clean, freshly washed hair. Use a moisturizing shampoo and conditioner to keep your curls hydrated.
Apply a curl-enhancing product, for example, a lightweight mousse or curl cream, to damp hair. This will help define your curls and reduce frizz.
Use a wide-tooth comb or your fingers to gently distribute the product throughout your hair, ensuring each curl is coated evenly.
If you prefer a more structured look, use a diffuser attachment on your blow dryer to dry your curls while maintaining their shape.
Once your curls are dry, use a small amount of styling wax or pomade to tame any flyaways and add shine.
To rock those retro-inspired high fade curls, a skilled barber is your secret weapon. Share some reference images that capture the essence of the retro style, and engage in a discussion about the specific techniques required to achieve the perfect look.