Let's be honest. Hair makes a difference – be it a beard or a brand-new cut. Great cuts highlight your best features. Cuts can also be used to express your personality and your unique sense of style. And nowadays, from classic styles to modern trends, there is so much to choose from.
So, where do you get started? You might want to explore the best men's haircuts of 2023. And most NYC locals are aware of hair trends, even if they won't admit it. You can't help it. You'll see popular new styles wherever you look. And we understand why. There's no shame in wanting to look good.
From the French crop, to the crew cut, to the undercut (and more) – getting a men's haircut in NYC knows no bounds. Tap into what's current and what's classic, and get inspired as you learn what's in, what's not, and which style will suit you best.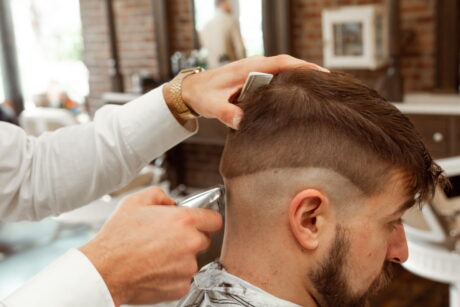 Current Men's Hair Trends to Try
Trends come and go. Some believe it takes up to 20 years for trends to make a comeback. Whether this applies to hair is debatable. But when comparing the latest trends to our favorite early 2000s cuts, there are some similarities – even if the take on the trend has evolved.
For instance, boyish, medium-length hair was popular. Think young Leonardo DiCaprio's mushroom cut, or the famous Justin Bieber fringe (this was known as a shag cut, by the way). The mushroom cut is back. Hipsters don' this 'do, but it works best with straight hair. 
Men with curly hair can get that softer, artsy look with the Timothee Chamolet-inspired mid-length cut, avoiding blunt ends so the curls appear laid back but clean. A shorter version of this would be the Simon Baker 'bro fro.' Relaxed, tousled, and swept back to the side. 
For shorter hair, the spiky look has made a come-back, too (minus the frosted tips –  a trend that can stay in the 2000s). Shorter hair is styled to up – looking windswept but neat. It's a pretty versatile style that can be formal and casual. Chris Hemsworth's 'messy crop' also has that tousled spiky appeal, with neater, shorter sides. Ryan Gosling's even shorter classic taper offers a slightly more polished look. It doesn't require much maintenance and is great for men on the go. 
When getting a professional men's haircut in NYC, it helps to know your type, preferred level of maintenance, and overall look.
Discovering the Most Versatile Haircuts For Men
Have you ever considered a more versatile look? These usually combine a mix of shorter and longer hair lengths. For example, the fade with a top-knot. It allows you to experiment with texture and length, achieving different looks without changing your actual cut that often. 
When you look at some of the best men's haircuts in NYC, you'll find there's more than meets the eye. Versatility is key, and the men of Manhattan know this. This can mean short buzz cuts that allow a no-fuss approach to sports while keeping things neat for work. Alternatively, a medium-length style that' speaks to your soulful side on the weekends while allowing you to comb it back on weekdays.
Versatile Textures & Volume
If you're looking to keep things fresh and stylish, try experimenting with texture and volume. You can achieve this through blow-drying, product, or simply a certain cut or color. By emphasizing certain aspects of your style, you can get playful or tone things down when opting for a more formal cut. 
The best part about getting a men's haircut in NYC is that your barber does know best. Your stylist can take your edgy undercut from a party look (complete with the pouf) all the way through to a board meeting the next day. All it takes is a bit of routine, product, and most importantly, an expert haircut. 
Finding the Right Men's Haircut in NYC
Gone are the days of cutting your own hair. We now scour the city to find the best salon for a men's haircut in NYC. There are so many benefits to getting your hair cut by a professional. Firstly, you know that the products used on your hair and scalp protect (and not damage) your hair. Secondly, the haircut you come away with won't force you into hiding for the next few weeks. 
However, it's important to be clear and direct with your barber. They'll cut according to your directions, so it's helpful to have something in mind. The Premium Barbershop is happy to recommend a style that will suit your current aesthetic and facial structure. 
Visit the Premium Barbershop in NYC's bustling business district to get the latest styles or create your own fusion of classic and modern looks.