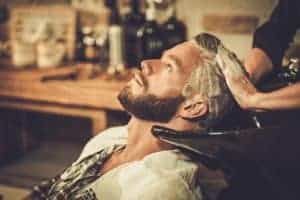 Gone are the days when men's hair color was limited to a few basic shades of blonde or brown. Nowadays, men are experimenting with all kinds of colors, from vivid neons to subtle highlights. If you're considering a new hair color this year, you're in luck — we've rounded up the top men's hair color trends for 2023.
Top Men's Hair Color Trends
Cool-Toned Blonde
If you're looking to lighten up your hair color, consider a cool-toned blonde. This shade is a departure from the warm, golden blondes of the past — it's more muted and silvery. It works well for men with cool skin tones and complements a variety of haircuts, from buzz cuts to longer styles. To achieve this look, your colorist will likely need to use a lightener to lift your natural hair color. This can be a delicate process, as too much lightener can damage your hair. That's why it's crucial to leave it to the professionals. After the lightening process, a toner is applied to achieve the desired cool-toned blonde.
Warm Brunette with Copper Highlights
For men who prefer darker hair colors, a warm brunette with copper highlights is a great option. This shade is rich and inviting, and the copper highlights add dimension and interest. It works particularly well for men with warm skin tones. To achieve this look, your colorist will start by applying a warm, chestnut brown base color. Then, they'll add in highlights using a copper-toned dye. The result is a natural-looking, multi-dimensional hair color that will turn heads.
Ash Brown
It's a natural-looking shade that complements a wide range of skin tones and hair types. Ash brown is a great option for men who want to update their look without making a drastic change. It works particularly well for those with warm skin tones, as it helps to balance out any redness in the skin. To achieve the perfect ash brown hue, your barber will need to use a professional hair color product that's specifically formulated for men's hair. They'll apply the color evenly, taking care to avoid any overlapping or patchiness. The result is a sophisticated and subtle hair color that looks natural and effortless.
Rich Burgundy
If you're looking for a darker hair color that still has some interest and dimension, consider a rich burgundy. This shade is a departure from the standard browns and blacks, and it works particularly well for men with warm skin tones. To achieve this look, your colorist will start with a dark base color, then add in burgundy highlights. The result is a hair color that's rich and inviting, with a hint of mystery.
The Importance of Professional Hair Color Services
When it comes to men's hair color, there's no substitute for professional color services. While a DIY hair color kit may seem like a cost-effective solution, it can lead to a range of problems. For one, it's easy to make mistakes that can leave you with uneven or patchy hair color. Additionally, DIY hair color kits can be harsh on your hair, leading to dryness, breakage, and other issues.
A professional colorist has the experience needed to achieve great color while minimizing damage to your hair. They'll start by conducting a thorough consultation, where they'll assess your hair type, skin tone, and personal style. In addition to providing great results, professional hair color services offer a range of other benefits. For one, a skilled barber can help you achieve a more natural-looking color. They'll be able to blend different shades and tones to create a multi-dimensional look that's unique to you. They can also offer advice on how to maintain your new hair color at home, including which products to use and how often to touch up your roots.
Elevate Your Look With Our Premium Services in Premium NYC Barbershop Near You
When it comes to finding a barbershop that offers top-notch hair color services, you want to be sure you're choosing a salon that not only uses the best products but also has the expertise needed to achieve your desired look. At our barbershop in NYC, we pride ourselves on both aspects. Our barbers understand that great hair color isn't just about the color itself, but also about the health and condition of your hair. That's why we use only the highest-quality hair color products, carefully chosen for their ability to deliver long-lasting results without damaging your strands. Book your appointment with us today and experience the best hair color services in NYC.