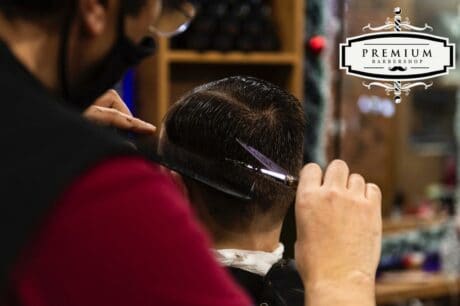 The world of men's grooming has evolved dramatically over the years, and it's no longer taboo for men to want to enhance their appearance with color services. With that being said, men's hair coloring is still relatively new, and many guys are hesitant to give it a try.
One of the most common reasons men opt for hair coloring services is to cover up gray hair. As men age, it's common for them to experience graying hair, which can be a source of insecurity for some. Hair coloring can help to disguise gray hair and create a more youthful appearance, allowing men to feel more confident and comfortable.
Another reason men may choose to get their hair colored is to add dimension and texture. Hair coloring techniques like highlights, lowlights, and balayage can create depth and movement in the hair, resulting in a more dynamic and visually appealing look. These techniques can be particularly effective for men with fine or thinning hair, as they can create the illusion of fuller, thicker locks.
Men may decide to color their hair to express themselves. Vibrant colors like blue, green, or purple can be a creative and exciting way for men to showcase their uniqueness and character. Although it may not be the most popular motive for men to dye their hair, it's important to acknowledge that there are numerous possibilities available for those who want to make a daring statement with their hairstyle.
Types of Color Services for Men
There are several types of color services available for men, each with its benefits and drawbacks. Here are the most popular options:
Permanent color
Permanent color is the most common type of color service for men. It provides full coverage and can last up to six weeks before fading. Permanent color uses ammonia and peroxide to penetrate the hair cuticle and deposit color deep into the hair shaft. This type of service can be damaging to hair if not applied properly, and it can be difficult to reverse if you decide you don't like the color.
Semi-permanent color
Semi-permanent color is a gentler alternative to permanent color. It doesn't penetrate the hair shaft as deeply and fades gradually over time. This type of color service is ideal for men who want to try out a new color without committing to a long-term change. It's also a good option for men with sensitive or damaged hair, as it's less likely to cause damage or breakage.
Highlights
Highlights involve adding lighter strands of hair to create contrast and dimension. This type of color service is a popular choice for men with dark hair who want to add some lightness and depth to their locks. There are many different highlighting techniques, including foil highlights, balayage highlights, and babylights, each with its unique benefits and drawbacks.
Lowlights
Lowlights are a great option for men who want to add dimension to their hair without dramatically changing their overall look. The darker strands are typically added underneath the top layer of hair, which creates a subtle shadow effect and adds depth to the hair. This technique can work well for men with light hair who want to create a more natural-looking appearance or for those who have thinning hair and want to add the illusion of volume. Balayage Balayage involves hand-painting color onto the hair in a way that creates a natural, graduated effect. Unlike traditional highlighting techniques that use foils to create uniform highlights, balayage creates a softer, more subtle transition from darker to lighter tones. It can be used to add dimension to hair of all
lengths and textures, and it works well on men who want a more natural-looking change. This technique is also great for those who want to add depth to their hair without committing to regular touch-ups, as the color fades more naturally over time.
Tips for Choosing and Maintaining Hair Color
You want a shade that complements your skin tone and enhances your natural features. It's essential to choose a color that is not too drastic or too light. When selecting a color, consider your skin tone. If you have warm undertones, opt for shades like golden brown or honey blonde. If you have cool undertones, choose shades like ash brown or platinum blonde.
You should also be realistic about maintenance. Different hair colors require different levels of maintenance. Before choosing a color, consider how much time and effort you're willing to invest in
maintaining it. Some colors may require more frequent touch-ups or special treatments to keep them looking vibrant.
It's always a good idea to consult with an expert colorist. They will assess your hair type, texture, and condition to determine the best color for you. A professional colorist will also consider your style and suggest a shade that complements your features. They will also take into account the natural lighting in which you spend most of your time. This will ensure that the color looks natural and flattering in any lighting condition.
Using quality hair products is crucial to maintaining the color and health of your hair. Expert color services for men use high-quality products that are specifically designed to protect and maintain the color of your hair. It's essential to use products that are free of sulfates and parabens as they can strip the color from your hair. Using color-safe shampoos and conditioners will help keep your color looking fresh and vibrant.
Hair Color Services Near you in Premium Barbershop
Our team of expert colorists has extensive experience in hair coloring techniques, including balayage, ombre, highlights, and all-over color. We use only high-quality products and tools to ensure that your hair looks and feels healthy, shiny, and vibrant. In addition to our exceptional hair color services, our barbershop offers a relaxing and welcoming environment. We understand that getting your hair done can be a personal experience, so we strive to create a comfortable and friendly atmosphere where you can feel at ease.